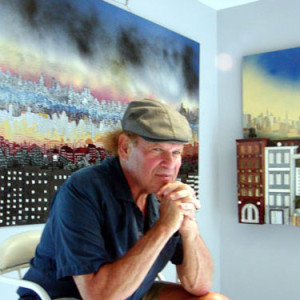 Robert Handler is a self-taught artist, raised in Manhattan. Although he didn't start painting in earnest until his 50s, Robert is making up for lost time, hunkered down in his art studio, serenaded by Bob Dylan, hipster college radio playstations, classical composers, classic Doo-Wop, and on off-days, Leonard Cohen.
Surrounding Robert in the studio are acrylic paints, mixed-media materials and large Masonite wood pieces, the main ingredients in his 3D/raised-relief architectural artworks.
Though the art studio windows look out onto his evergreen tree-lined backyard in Maryland, often frequented by deer, Robert, at least in his mind, is still in New York, painstakingly painting the dozens of miniature skyscraper window frames, arches, friezes, water towers, and other finely detailed architectural nuggets.